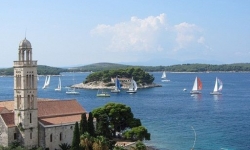 Hvar (Hvor dialect, or For, Greek: Φάρος, Pharos) is an island in Croatia, in front of the eastern Adriatic coast. Belongs to the group of central Dalmatian islands.
It is located in Split-Dalmatia County, in the middle of a group of islands that are part of the county. Reviewed by the immediate neighborhood, north of it is the island of Brač, and south of it are Šćedro (from it by Šćedorski channel), Vis (more towards the southwest), Paklinski Islands, Korčula and Pelješac peninsula.
Length is 72 km, and in the wider area is 10.5 km wide. The total length of the coast it is 254.2 km. Its area is 299.7 km2 making it the fourth Croatian island in the surface. The highest peak is St. Nikola, 628 m high.
The road that connects the town of Hvar on the west and Sućuraj on the eastern side of the island is 84 km. The island of Hvar is mostly covered with pine trees which makes a very pleasant climate and vineyards that produce up to 50,000 hectoliters of wine per year.